Large Communications Solutions
A Business Phone system doesn't have to be complex to be powerful.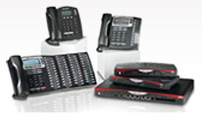 Enterprise Businesses need solutions that are simple to manage and scale. Supporting a range of sizes and department needs combining the latest power in Unified Communications, Voice, Web, Prescence and Collaboration. You also appreciate a simple, reliable approach to select, purchase, install, and service that equipment—no matter where your business is deployed.
Enable your business to outpace the competition and work smarter and faster. Standardising your business communicates makes perfect sense, we strive to give you much better choices to do it.
Command Business is able to offer you an unsurpassed combination of high quality Phone Systems, simplified purchasing, installation and service.
Join us as another satisfied customer with one of the best National account service teams.
National Account, What you can expect:
Direct Relationship
Nationwide Dealer Network
Single Point of Contact
Uniform Equipment and Labour pricing
Reliability and Confidence in your business communications
Standardised Equipment
After that, Its all about the relationship
Multisite - Enterprise Systems offer additional key advantages:
Built to make it much easier and more affordable tomaximise performance. Work as one team, and extend your company reach, no matter where they are located.
Unveiled technology built on previous reputation
All-in-one IP phone Systems delivering unmatched innovation
Reliability and Scalability
IP Gateways combining inplace TDM systems
Capabilities for customisation and mobility
Powerful applications, UC desktop, Follow me,
Intelligent Call handling solutions
Features enhance Business operations:
Easy to Use
Increased contact points
Customer satisfaction
Optimise operations
Efficient Call Handling- Faster, Smarter,Successful
System Features
Phone Features
Voice Mail Features
Mobility Features
The Bottom Line on an Enterprise System: Command Business
It's simple – we know Phone Systems
You need a simple, reliable approach to select, purchase, install, and service that equipment. We have been doing Phones at Command for over 22 Years.
Local and National standardisation, with reliable service and excellent technical support.
Compare leading suppliers equipment, ensuring you find the right system for you situation.